Affordable Dental Implants
Dental implants have been one of the biggest changes to modern dentistry over the past few decades.
Affordable dental implants on the Sunshine Coast from Mooloolaba Dental, are man-made replacements for missing teeth. The dental implant is made out of a commercially pure titanium and is placed into the jaw to create a foundation to place a crown, bridge or locator on. The jawbone grows onto and interfaces with the implant over time, in a process known as 'osseointegration'. In simple terms – a dental implant is basically a rod placed into the bone of the jaw, surgically implanted under the gums, onto which a fake tooth is attached. Unlike a bridge, the implant doesn't have to be attached to another tooth. Dental implants can replace a single missing tooth or several.
Dental tooth implant costs are affordable, and the implants made by our Mooloolaba Dental implant experts look and work like natural real teeth.
For the best dental implants on the Sunshine Coast at an affordable cost, make a local dentist appointment with our Mooloolaba Dental tooth implant team today.
Fitting dental implants requires 3x Mooloolaba dentist appointments
Visit 1
The dental implant dentist, at the initial consultation, will take take X-rays to make sure there is sufficient bone to hold a tooth implant in the area required.
Visit 2
The partial or full dental implant, called a fixture, is placed into your jaw, by an Oral Surgeon. At the same dentist appointment, a temporary tooth is provided that allows you to function and look normal. The tooth implant will need normally three months to integrate with the jaw-bone before the impression for the new crown can be taken.
Visit 3
The new crown is placed and screwed into the partial or full implant that is now attached to your jaw bone. The end result will be a new tooth that functions just like a natural tooth. This new tooth implant has to be maintained with normal dental hygiene to keep the gum around it clean and healthy.
One of the most popular dental treatments involving dental implants is to incorporate two of them, one each side, into a lower denture, whereby the denture attaches to the implant. Denture implants greatly improve the retention and function of a lower denture.
If you are in need of the best dental implants or denture implants available on the Sunshine Coast, contact your local dentists at Mooloolaba Dental and Swell Dental.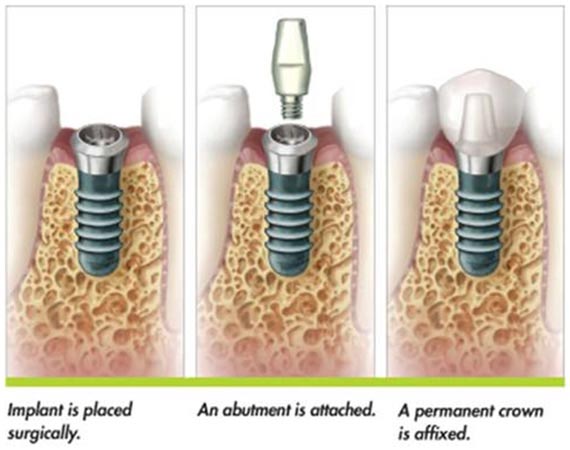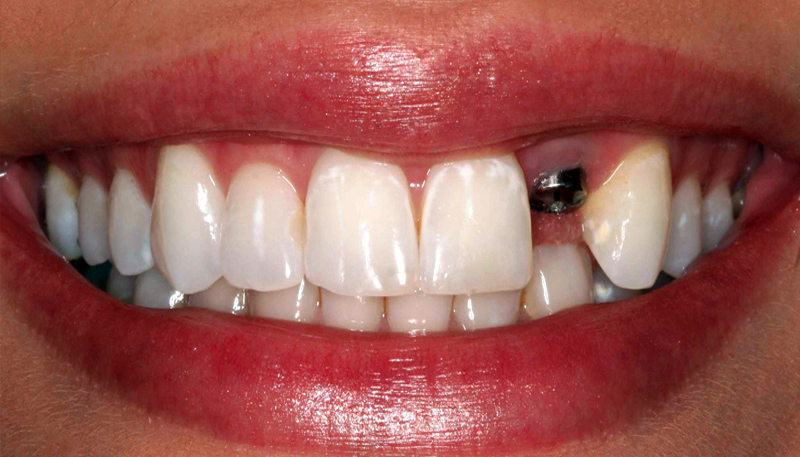 How to Care for your Dental Implants
Surgery in your mouth requires special care to prevent an infection or further problem. This includes keeping the incision clean and coming back to see our dental implant dentists as often as recommended for check-ups.
Once the implant process is complete, you will care for the implant as you would a natural tooth – brushing twice a day and flossing once a day to keep the area clean and healthy.
You can expect a dental implant to last about 25 years, provided you take proper care of it.
Our Sunshine Coast orthodontists only use the best dental implants to replace missing teeth or support unstable dentures.
Our Mooloolaba dental implants are fixed in place so that they do not move or wobble and have a natural, healthy appearance. When replacing missing teeth, the tooth implant consists of three components:
The titanium dental implant which is placed into the jaw bone.
An implant abutment our dentists use to connect the implant to the porcelain crown.
And an implant crown which accurately replicates the part of the tooth above the gums.
Dental implants are typically placed and restored over two stages. At Mooloolaba Dental and Swell Dental by Mooloolaba Dental, we perform a fully comprehensive dentist consultation to ensure the proper planning of any tooth implant treatments. At this time our local dentists will provide a detailed treatment plan that will outline the processes and affordable dental tooth implant costs involved in the procedure.
Our local dentists are also able to use the best dental implants to improve the function of loose or poorly fitting dentures.